ALCOHOL (AND CIGARETTES) IN LVIV
Pubs
Since 2007 a network of pubs called LOKAL is being developed in Lviv. Each pub has its own specificity and main topic.
— The Hideout (Криївка, Kryivka, 14 Rynok Sq., http://www.kryjivka.com.ua/,

) is unique. To enter, you have to say the password "slava Ukrayini!" (слава Україні!), or if the "sentry"-bouncer gives the password, you have to say the countersign "geroyam slava!" (героям слава!). The same procedure needs to be applied on the pub's website. When entering the pub, you can sometimes get a shot of medovukha (honey vodka/liqueur).
— It's also worth to visit the Kerosene Lamp (Гасова лямпа, Gasova lampa, 20 Virmenska Str., http://www.gasovalampa.lviv.ua/) - a multistorey pub-museum of kerosene lamps, with a terrace (enclosed) on the highest level. I recommend a large selection of vodkas/liqueurs with interesting names (kerosene, gasoline, petroleum etc.) priced 8 UAH (1 USD) [2010] per 50 grams, and lavash chips as an appetizer.
— In the Jewish pub (Галицька Жидівська кнайпа "Під Золотою Розою", Galytska Zhydivska knaypa "Pid zolotoyu rozoyu", 37 Staroyevreyska Str.) there are no prices in the menu, you should bargain with the waitress. You get free matzah to every order.
— In the House of Legends (Дім легенд, Dim legend, 48 Staroyevreyska Str. – vis-a-vis the Jewish pub) waiters are midgets. Similarly as the Kerosene Lamp, this pub also occupies several storeys of a house, with a terrace on the last floor. But the terrace is not enclosed, and the view is much better than in the Lamp (but there are only four tables).
— In the Masoch-cafe (Мазох-кафе, 7 Serbska Str., http://masoch-cafe.com.ua/) you can get hit with a whip on your back.
Prices of beer in all the pubs are within the 10 - 14 UAH (1,25 - 1,75 USD) [2010] limit.
You can also get a loyalty card which gives you some discounts and allows you to collect points that can be used eg. to pay a part or the whole bill.
More information and a list of all pubs within the network: http://lokal.lviv.ua/.
Information about other pubs - see here.
See map (click to open in a new window):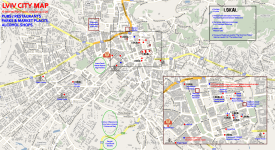 Higher resolution version
Open in Google Maps
Consuming on the street
In 2010 a ban on consuming alcohol (including beer) in public places was imposed.
What to buy in a store
ATTENTION! Since autumn 2010 it's forbidden to sell alcohol in stores in Lviv from 10pm to 10am.
Beer
Canned beer is rare. But virtually every brand of beer is available, apart from usual half-liter glass bottles priced ca. 4 UAH (ca. 0,5 USD) [2010], also in plastic bottles with capacities from 1 l - priced ca. 7 UAH (ca. 0,9 USD) [2010] - even to 3 l.
I recommend the following beer brands:
— Chernigivske (Чернігівське):
– Svitle (Світле) - lager,
– Premium (Преміум) - lager,
– Bile (Біле) - not filtered lager,
– Bila Nich (Біла Ніч) - not filtered dark,
— Lvivske (Львівське):
– Svitle (Світле) - lager,
– Premium (Преміум) - lager,
– 1715 - lager,
— Obolon (Оболонь):
– Oksamytove (Оксамитове) - dark,
— Persha pryvatna brovarnya (Перша приватна броварня):
– Avtorske (Авторське) - dark,
– Stare Misto (Старе місто) - lager.
Wine
In stores it usually costs from ca. 15 UAH (ca. 2 USD) [2010] per bottle (0,7 l).
In Arsen (Арсен) hypermarkets

there's a very large selection of wines, from ca. 12 UAH (ca. 1,5 USD) [2010] per bottle (0,7 l).
I recommend the following wine brands:
— Tamyanka (Тамянка) - white semi-sweet,
— Monastyrska izba (Монастирська ізба) - semi-sweet, both white and red.
Vodka
What to buy:
— Two best vodka brands in Ukraine are Khortytsya (Хортиця) and Nemiroff. Price: ca. 20 UAH (ca. 2,5 USD) [2010] per 0,5 l.
— Apart from clear vodka, there are also flavored ones, usually they're a little bit more expensive, with an exception for Nemiroff Lymon vodka (Лимон - lemon), which is a little bit cheaper than the clear one.
— I recommend also "Ukrayinska z pertsem" vodka (Українська з перцем), ie. with red pepper. Branded as Volodar (Володар) it costs 18 UAH (ca. 2,25 USD) [2010] per 0,5 l, the one manufactured by Nemiroff is a little bit more expensive.
More information about the products:
— Khortytsya,
— Lvivskyi likero-gorilchanyj zavod (Volodar and other brands),
— Nemiroff.
Where to buy:
— It's best to buy Volodar vodka in factory outlets of the Lviv-based alcohol producer (Львівський лікеро-горілчаний завод, Lvivskyi likero-gorilchanyj zavod). The store located nearest to the center is on 2 Gavryshkevycha Str., at the corner of Krakivska Str. - large, blue door in social-realistic style

. Open Monday to Friday 10 am to 7 pm, Saturday 10 am to 6 pm and Sunday 11 am to 3 pm. The list of all stores is here.
— Vodka of some brands can be bought cheaply from the alcohol wholesaler Svit napoiv (Світ напоїв) on 19 Doroshenka Str., entrance from the courtyard

. Open Monday to Friday 9 am to 7 pm, Saturday 10 am to 4 pm, closed on Sundays.
— In Arsen (Арсен) hypermarkets prices are also low, try eg. on prospekt Chornovola 93

. Open every day 8 am to 10 pm.
The locations of Svit napoiv and LLGZ outlets are shown also on the map of pubs (see above).
Liquor
I recommend Staryi Rynok (Старий Ринок) liquor, with various flavors - nut (original), chocolate, lemon, coffee, cherry etc., see here.
The lowest prices are at the producer's factory outlets (Lvivskyi likero-gorilchanyj zavod, see above

).
Prices, depending on flavor, from 17,5 to 24,5 UAH (ca. 2 - 3 USD) [2010] per 0,5 l.
Cognac
I recommend Transcarpathian (Закарпатський, Zakarpatskyi) and Uzhhorod (Ужгородський, Uzhhorodskyi) cognac.
The lowest prices at the Svit napoiv wholesaler (see above

).
Prices, respectively, 53 UAH (ca. 7 USD) and 43 UAH (ca. 5,5 PLN) [2010] per 0,5 l.
List of some prices
The list containing prices from March and August 2010 can be downloaded here.
What can you take through the Polish (EU) border
Since December 2008 there are the following limits:
1 liter of vodka (or liquor, cognac) or 2 liters of alcohol up to 22% (eg. sparkling wine)

and 4 liters of wine (non-sparkling)

and 16 liters of beer

and 2 packs of cigarettes (= 40 pieces) (in case of plane travel - 1 cardboard box = 200 pieces).

When travelling by car, you can also bring full tank of fuel and 10 liters in a petrol can per one car.

Customs officers (and also the police on the road from the border towards Rzeszˇw) pay attention mostly to cigarettes.

More details about import limits on taxonline.pl (in Polish).